Last Saturday I finally set foot on Singapore. As a Malaysian, usually that's the first overseas destination, especially after considering the fact that Singapore is a popular destination for primary schools to have their graduation trip.
This was really a short trip with two strong motivations for me to be there: Geekcamp Singapore and the day when I finally get my hands on the iPad. That goes without saying that I'm really excited about the trip.
Geekcamp turns out to be awesome and I really regret that I was only able to be there for half of the sessions. Partly due to our delayed flight as well having myself slipping away during the lunch break to hunt down the iPad. It's really hard not to be envious towards the Singaporeans seeing the amount of tech events they had. Looking forward to attend another on next time.
As for my iPad, I'm quite lucky that I need not go through the iPad shopping marathon: I pretty much had it on my first try. And I visited three more stores at Funan Digital Mall after that to hunt down a 16GB wifi version for Eng Lee. So far I have been most impressed by the level of service and friendly service at Multimedia Integrated @ Funan, where Eng Lee's iPad was bought. I should have asked the name of the salesperson who attended to us :).
That said, having to go through three stores to get the cheapest iPad does made me wonder whether is there a hidden marketing ploy to create a false sense of scarcity. Especially now that the Apple Online Store had recently advertised to be able to ship iPads within 24 hours.
Speaking of a marathon, we did end up walking a distance when we were there. Out of curiosity, I did some distance measuring and we had walked more than 5km that day. And the most tiring walk has to be the one where we walked to our hotel during the evening: we were sweating profusely when we finally reached the hotel after walking for 2.4km.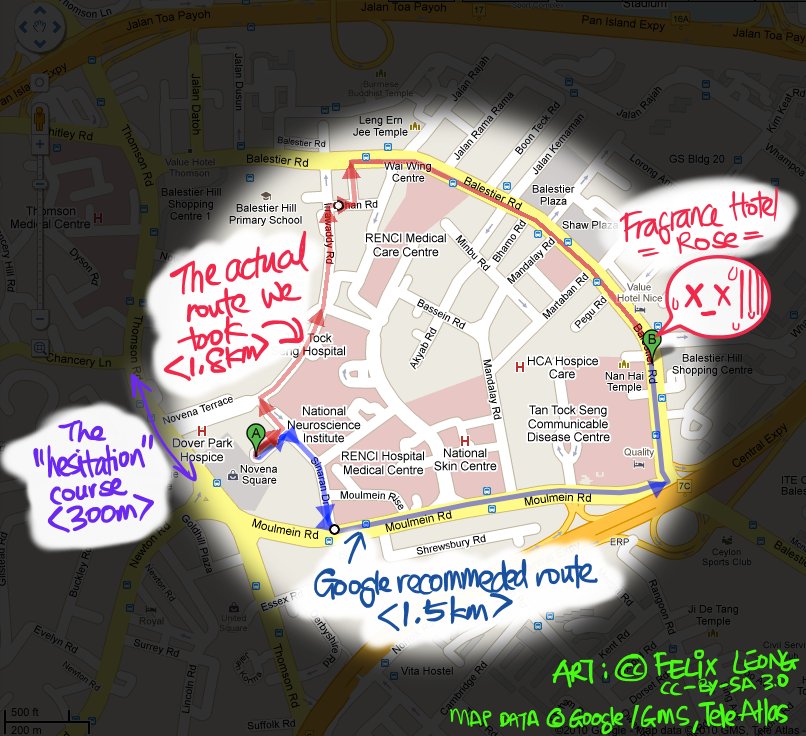 Have to attribute it to the fact that:
a) I should have brought the map with me (noticed the "hesitation course"? That's where we felt lost and have to turn back to ask for directions), b) the weight of my backpack would add up to the toll to my body and stamina, and c) don't forget that my body is still recovering from the 2.2km journey when we were shopping for the iPad two hours ago.
We found out later from the hotel staff that it wouldn't cost us much to take public transport between our hotel and the MRT: it only costs us like SG$1 to take a bus or a taxi (after splitting the fare among ourselves). Moral of the story? It would have been wiser to have at least asked about the cost for the option of throwing money at the problem. Avoiding spending at all in the name of frugality is a very unnecessary behavior even in budget traveling.
We went to Sentosa the second day and I'd only go as far as to say that we went sightseeing at Resorts World Genting and seeing the iconic Merlion. The photographs taken pretty much speaks for themselves :).
Having been there for only two days without really experiencing Singapore in depth, I'm really looking forward to go there again. After all, Singapore still hosts some of the greatest tech and startups conferences (the most recent being Singtel Accelerate).